3M CRYSTAL SERIES Films
Add Privacy and Style to your Space
---
Our custom films are created to meet your needs, from adding a pattern to your front door to the city skyline on your conference room. ST Graphics custom designed films are available in dry-erase, opaque, translucent, temporary, or semi-permanent options. Encourage the culture of your brand or office with an inspiring design ran throughout the office or with custom prints to meet the need of each office such as more or less opacity. Our in-house graphic designers can create whatever you can dream, ST graphics custom decorative films are 100% customizable from opacity, color, shape, and design.
---
---
---
Crystal series is perfect for:
---
Conference / Huddle Rooms: provide privacy while retaining natural light and conceal areas not meant for public viewing.
Offices: create separation without closing off a space.
Entrances: add branding to your entryway of your business or privacy to the front door of your home.
Restaurants: hide the contents messy cabinets, add privacy to glass dividers.
Shower Enclosures: provide privacy or add an aesthetic appeal with a die-cut design.
Retail Storefronts: provide elegant visual interest with custom cut graphics or images.
---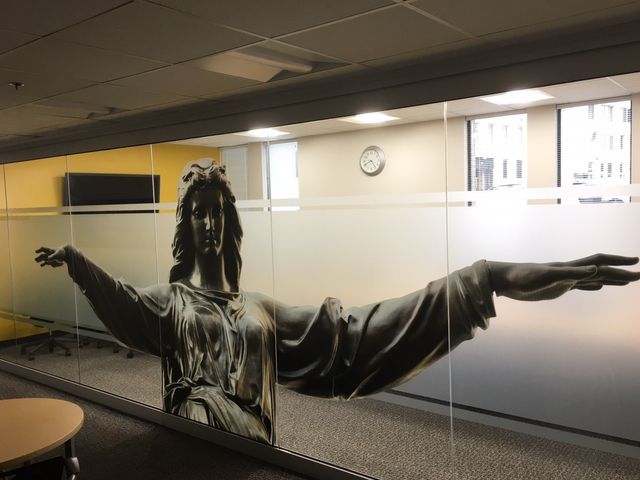 ---
Our client came to us in search of privacy but also wanted to add an image that related to the name of the conference room: The Lady. This iconic image, from Fountain Square, was installed on the hallway side while the bands of Dusted Crystal were installed on the conference room side.
---